To learn more about this amazing mindful drawing process please email:
Zentangle Classes
Zentangle classes in my studio are £20 for 2.5 hours, £40 for 5.
I look forward to hearing from you if you would like to learn more about my services or make a booking.
The Arts of Life – Zentangle®, Mindful drawing
What is Zentangle®?
Zentangle® is a meditative, mindful drawing practice – as well as being an inspiring design process for both artists and non-artists. In essence, it is the slow drawing of patterns, one deliberate stroke at a time – which helps people of all ages and backgrounds to achieve calm focus on the present moment.
When you tangle, your everyday, swirling thoughts slow down and disappear as you engage in this calming and enjoyable activity – so that you become more relaxed. If you think you can't draw it is also very exciting at the end to see you have created a beautiful, complex-looking image, using good quality materials.
"It's a funny mixture of filling and emptying my mind!"
"The result of focussing on one line at a time - and not on the whole picture that comes out of the combination of patterns you select - is that you feel calm and present. You have an experience of freedom within a basic structure, a bit like meditation with the bonus of having something concrete created at the end."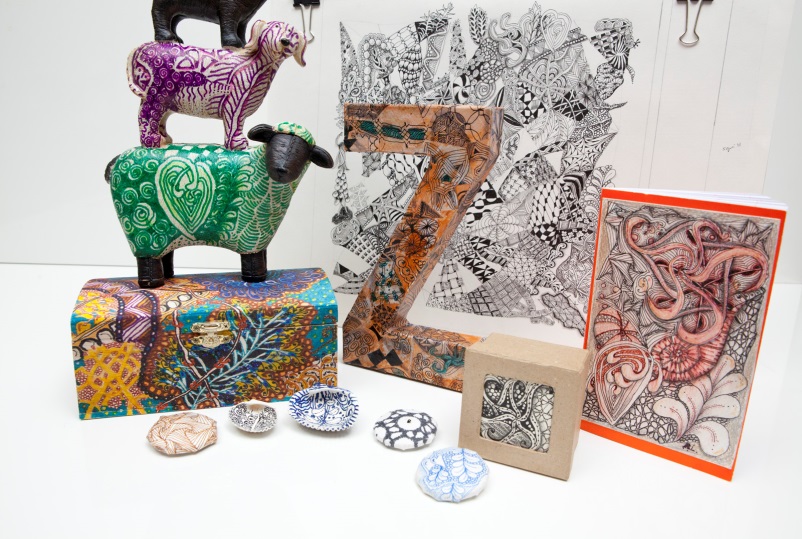 The Beauty of Zentangle
Here are some of my teaching aids…you can tangle on almost anything!! This photograph appears in the inspiring book "The Beauty of Zentangle" (2013, Design Originals) – a collection of unique, unusual and exciting Zentangle-inspired creations from over 130 Zentangle teachers and artists. The book reveals the enormous creative potential of this mindful drawing process.
Who created Zentangle?
It was developed around 2004 by Rick Roberts, a former Buddhist monk and Maria Thomas, a calligrapher and artist. They realised just how meditative and calming it was to be mindfully focussed on drawing repeated, deliberate, slow strokes. Please take a look at Rick and Maria's inspiring website www.zentangle.com for newsletters and information. You will find me listed there as a Certified Zentangle Teacher (CZT). There are many other great websites and books – and I share many of these with my students during classes.
"Zentangle is an art form, a hand exercise, an escape from reality, a pathway back to reality, an everyday practice, something to increase focus, a place where ideas come from, perfection, a mess, a smile, a gift for a friend, a gift for myself, something special, and mine." Molly Hollibaugh (Maria's daughter)
How can I learn more about Zentangle?
I became a CZT in 2012, and teach one-off classes, and courses for all levels of learner. I teach from my own studio in Cheltenham, and from several other locations in Gloucestershire. I also travel to teach organised groups in other parts of the UK. Please email me at lesley@theartsoflife.co.uk for details of upcoming courses, or to discuss your individual or group requirements. I am happy to teach in a village hall, dining room, classroom or corporate training room – as long as there is good light and tables and chairs!
"Lesley, I think you've got your teaching spot on! You give just the help needed, more in depth instructions in the beginners' class simply because it's needed, but in the intermediate sessions it's good to be given free rein and for us to talk about the development of patterns. The show and tell is good too."
"Being part of the group is enjoyable because although we all have busy lives, we have a common link and I feel there is a kind of meditative feel to the group when we are quietly drawing. There is a nice feel to your studio, a lot to look at and ideas sparked."

How did you learn Zentangle?
I was introduced to Zentangle as a design process in 2010, when my textiles teacher Dawn Parsons shared an article in "Cloth, Paper, Scissors". I found out more from online sources and enjoyed creating Zentangle patterns and using them to inspire my designs – and I also sensed myself slowing down and feeling more centered when I drew them. My own research into Zentangle showed me its potential to help people feel calm, centred and mindful. So, in 2012 (before my CZT training) I taught Zentangle to a class of fellow meditation teachers at The British School of Meditation … with some trepidation, as it was so unlike other meditations we practiced! However, it was well-received and I was encouraged to train in the US with Rick and Maria in August 2012, becoming the second UK-based CZT.
I love helping people to develop their Zentangle practice – alone or in groups - and am continually inspired by seeing the positive effects it can have on people's lives. I also love creating Zentangles and seeing new ways of creating the patterns, in a range of mediums (print, textiles, hand-made books….)
Why is a psychologist teaching something creative?!
I have taught stress management and relaxation since the end of the 1990s, seeing first-hand how hard it can be for many people to slow their whirring minds and even to sit still! I also teach a 12 week course based on Julia Cameron's "The Artist's Way", which helps people to develop their creative, authentic voice. I was excited when I realised that Zentangle helps people be creative and to quickly and easily gain control over their thoughts, moods, emotions … and, ultimately, their life. Stopping your day for 15 minutes to "tangle" is a simple yet powerful way to gain more control over what you think and feel. Psychologists call this ability to shift one's mood "self-regulation", and it is a key skill for well-being. Creating a Zentangle drawing is relaxing, re-energising and fun – and I have found that teaching others how to create them has allowed me to integrate different aspects of my life.
It also adds meaning to my work that Zentangle is explicitly built on principles and values which reflect many of my own: the importance of being calm, present, creative, achieving your potential etc. I love that Zentangle can help you be creative, resilient and enterprising – which this "Arts of Life" website shows is the purpose of all my work.
"I find the sessions very relaxing, productive and enjoyable. There's something about you Lesley that makes me relax and feel chilled out …… It's time out that I very much appreciate and would like to be able to do more tangling to produce some stunning drawings….. Thank you for making the sessions so enjoyable - it's changed my life!"

How can I create those complex drawings, I am rubbish at art?!
I include this because lots of people say this to me ….. All you need to do is be able to draw dots, and lines – vaguely straight ones, curves like "S" and "O" – and you can create complex looking patterns – one stroke at a time! One student in their 60s said to me after an Introduction Class "This is the first drawing I've ever done that I feel I can show to other people!". I found this both happy and sad, and was so glad they decided to come to a class.
"I get pleasure seeing what I create and yet while creating I am only focusing on what I am doing in the present. So there's no underlying concern about creating something visually pleasing."
Who comes to Zentangles classes?
I teach people of all ages (from about 5) and from all walks of life – artists and non-artists. Some want to develop a new creative skill; others want to learn how to create a calm space in their busy lives; others enjoy the camaraderie of their group and love sharing what they have "tangled".
"I enjoy the atmosphere of co-creation, a sense of working together yet on separate parts. I like the community feel."

What sort of Zentangle classes do you run?
I teach several classes throughout the year to introduce people to Zentangle, as well as masterclasses on particular aspects of Zentangle – such as shading for 3D, tangling on objects, white on black, tangling with colour and on colour. I also run intermediate courses for groups who want to tangle together and learn more. Some people prefer to have a one-to-one session, where I can give them personalised attention to develop particular aspects of their tangling.
"I like the way the beginners' event was more structured with not too many options described yet still being clear that our own individuality will come through and rightly so. For the intermediate class, you give more fluidity in describing the zentangles in that you show different examples of the same zentangle, which helps me be less judgmental about what I do (this had already been the case in the beginners event, just further confirmation)."
"When someone thinks their zentangle is missing something you usually have a simple idea to share (or someone else chips in) from which we can all learn. It's given in a way that feels adding, developing rather than critical – quite often adding you have experienced similar thoughts too and continue to do so."
What do your students say about Zentangle?
During and after the first class students use words like "magical", "amazing", "incredible", "beautiful" and "wow" to describe what they have all created – especially when I put the tiles together at the end of the class to form a mosaic for everyone to take a photo of. Here are just a few things that students have written to me after classes :
"I love seeing what others have done with the same guidance you have given – I find it freeing to seeing the differences – to me it shows that there are so many ways to follow guidance and achieve the outcome."
"I feel that my inner urge to be able to draw and create intricately has been released and it's very satisfying. I have always wanted to be able to draw and now by the step out method of creating the tangles I actually can end up with a 'something' that I am proud to have made. Tangling gives me much needed time out from work but also has a purpose; I can give little presents to family and friends that are inexpensive but a pleasure to give and receive (hopefully!)"
"Zentangle helps to get my attention from a lot of thinking which is about me (directly or indirectly) and focus on the task in hand, the next line!"
When you can learn Zentangle from the internet and books, why should someone come to a lesson?
Although many of my students are new to Zentangle, some have been learning from books, online videos and pattern sites. The latter always comment after a class with me that they learned many new things which they had just not appreciated beforehand : about methods of drawing and shading, about adapting patterns, about the rituals of the Zentangle process……
"Just to say thank you for the Tangle class. (We) really enjoyed it and I have already noticed quite a difference in the tangles I am now doing."
"I find the feedback we gain from each other very supportive, especially in seeing things about my drawings that I hadn't noticed. I learn from seeing other people's interpretations."
"Viewing each other's efforts in between sessions is an important part of this learning. When we do this I have felt no judgement about how many (or, more likely, how few!) zentangles I might have done between sessions. This encourages me to do them when I want rather than feel obliged to do zentangles, which would really be against what I believe to be the values of zentangling."
How is Zentangle different from doodling?
I am asked this a lot, and I believe the main difference lies in the process. While some doodles may look very like some Zentangle drawings - and are beautiful and amazing - the implication is that they were created in an "absent-minded" way while doing something else that was not fully engaging you (eg. in a boring meeting, on a long phone call). When you tangle, however, it is your sole, and "present-minded", focus…… you simply draw the next line, and then the next, in a mindful way – with no concern for the finished article.
"Zentangle takes my mind off things that may be whirling around my mind – and afterwards they don't return, certainly not in the same way!"
"It's a funny mixture of filling and emptying my mind!"
"I have zentangled when waiting between coaching sessions, which helps me remain relaxed and present."

Can I buy any Zentangle products or books from you?
I have a good library of Zentangle books, and many products etc. which are available for people to see at my classes. I make recommendations and sell a few things at classes. I sometimes place orders on behalf of others, as most things have to come from the US, which, sadly, adds to the cost. Many of my students choose to tangle in good quality, small sketchbooks with archival, fade-proof and waterproof pens – although we use Zentangle paper "tiles" in classes.
How can I contact you to find out more?
Please feel free to email me at lesley@theartsoflife.co.uk if you would like to ask questions or book a class or course with me. I am also happy to explore ways of bringing my teaching to you if there is a group of people near you interested in learning Zentangle.
"I hope that when we've come to the end of these sessions we can continue with more of the same and go through more tangles that we have yet to explore….. "
Happy tangling!